Open to All Gamers, Crimson Gaming at the University of Utah
Gaming of all sorts is a large part of the University of Utah, which attracts individuals from all over the world to participate in the Entertainment Arts and Entertainment (E.A.E.) program and the collegiate sponsored Varsity Esports team. Alongside these programs are some clubs that anyone may participate in. While E.A.E. has recently created a club of their own, many other gaming-related clubs, such as Dungeons and Dragons (D&D) or game production, as well as a variety of competitive associations, are all a part of an on-campus organization known as Crimson Gaming.  
Formerly known as The Esports Association, Crimson Gaming was founded as a non-profit organization to provide and spread gaming opportunities to everyone on campus while networking with other organizations nationally. They have 12 Executive Board members, Crimson Gaming Leadership Council, that host regular LAN events, social meetups, online gaming nights, and tournaments, featuring fan-favorite games like "Super Smash Bros. Ultimate."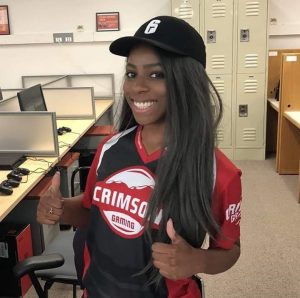 Crimson Gaming at the University of Utah boasts a collective of various gaming focuses. These include D&D, League of Legends, Minecraft, board games and fighting and shooting genres. Anneke Davis, Marketing Director, said, "We try not to give love to one game. Everyone in our club has a variety of gaming interests. There's a spot for everyone." The organization is a chapter of Tespa and sponsored by NVIDIA and Riot gaming. Crimson Gaming works in conjunction with E.A.E, the Varsity Esports team and Associated Students of the University of Utah (A.S.U.U.) in order to a safe and fun environment.  
Although most attendance is by University of Utah students, the organization as a whole fosters a community of inclusivity open to any student and locals. During their last fighting game event, they had a large turnout from Neumont University. Events occur biweekly with one larger gathering such as a tournament with two smaller events per semester. "Our last event was a board game event with a good turnout," said Davis. "We instill community voting. 'Here's some games we think will make a good event,' then we set a poll and ask, 'which games would you like to do you want to play or see?'" 
Upcoming events to look forward to is their regular Game Night: Couch Co-op on the 27th of September and their bigger event League of Legends World Viewing Party on November 9th. You can find out more on their Discord, Facebook, Twitter or Instagram. Crimson Gaming also has a Twitch channel and gaming teams. Whether you are into Esports, casual gaming, in the E.A.E. program, or want to meet new people, it's certainly worth checking out.