'My Hero Academia,' Popular Turnout at Anime Banzai 2019
Ray Gill, Student Writer
October 24, 2019
With how big anime is in Utah, Anime Banzai has become an annual event many look forward to. The convention continues to add more things to do including panels to enjoy and learn from, a large cosplay contest, cosplay dances, a lip sync battle, gaming, arts and crafts, celebrity guests and so much more. This last weekend, anime enthusiasts gathered in the relatively small Davis Convention Center in Layton, Utah.
Cosplay is something shared throughout the fandom in the community. Costumes ranged from popular anime such as "Pokémon," "My Hero Academia," "Dragon Ball" and some not well known — or as popular for dressing up as — Studio Ghibli films like "Kiki's Delivery Service" and "Howl's Moving Castle." Other cosplays came from the realms of comics such as "The Avengers" and games like "League of Legends."
Many of the panels at the event were, rightfully, anime-related. Some covered topics on costume and prop making and others on anime fandom.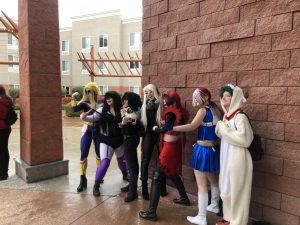 Anime meetups of all sorts were well-received from fans gathering outside in the courtyard or filling up rooms. "My Hero Academia" fandom meetup was one such turnout even with the cold air and intermediate rain. The quirky anime is set in world in which humans with mutant powers are the majority of the populous. The anime has reached a point where the majority of Anime Banzai attendees were cosplaying someone from the anime — if just casually in a wig and street clothes.
Those running the event try to keep things fresh and new without burning out. It's well organized with a non-stop schedule throughout all three days. Doesn't matter if you're a die hard anime lover or a casual watcher, the convention has something for everyone.