GtW: Keanu Reeves, Microsoft Edge, and Space Cookies
Today on Geek This Week–
We don't have anything for Cyberpunk 2077 other than encouragement to pre-order, and play the Role Playing Game Cyberpunk 2020!!! – https://talsorianstore.com/products/cyberpunk-2020
You can listen to the full interview with Sam Esmail from NPR here – https://www.npr.org/2019/10/30/774691659/mr-robot-creator-says-his-own-anxiety-and-hacking-helped-inspire-the-show
If you want to play the Edge Surf game to discover the new logo yourself, check out this guide here – https://mspoweruser.com/heres-how-you-can-unlock-microsofts-surf-game-on-edge-canary/
You can check out the successful rocket launch carrying cookies to space here – https://www.youtube.com/watch?v=4nspRYAso0c
Read the full piece from Martin Scorsese in The New York Times here – https://www.nytimes.com/2019/11/04/opinion/martin-scorsese-marvel.html
Read more about the devices improving safety here – https://www.bloomberg.com/news/articles/2019-11-05/am-i-being-tracked-at-work-plenty-of-warehouse-workers-are
Make sure to like and subscribe to keep up to date on some of the Geekiest news out there!
You can follow The Geekwave on
Facebook – https://www.facebook.com/geekwave
Twitter – https://twitter.com/KUTEGeekwave
Twitch – https://www.twitch.tv/thegeekwave
About the Writer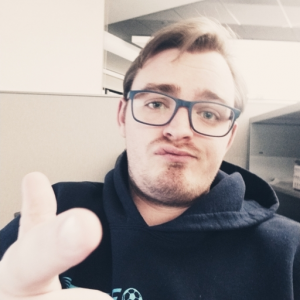 Talon Dillman, Director
Talon is a senior at the University of Utah getting a B.S. Degree in English. He is the current director of The Geekwave, and when he's not busy with running the platform, he's probably playing a TTRPG or working on one of his campaigns.