Spoiler-Free Review of 'Weathering with You'
Ray Gill, Student Writer
February 14, 2020
Note: This review has taken precautions in order to avoid spoilers for "Weathering with You."
Mixing beautiful scenery and magic in an almost realistic setting, the Japanese writer and director, Makoto Shinkai, makes another well-worth hit in "Weathering with Me." Just as the title entails, there is weather involved. In fact, it's what the entire anime movie revolves around, however, there's a play on the title. 
Unique Story
In an alternate timeline, Tokyo, Japan is constantly covered in rain with no relief making the weathermen and weatherwomen's jobs easy. Though, there is a legend of a Sunshine Girl who is supposed to bring balance in the weather to the area that's stuck with the misfortune of no sunlight.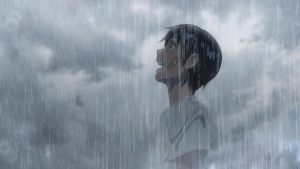 For quite a while in the movie, it seems there is no realism to the tale. But there are believers radically searching which is where Shinkai knows how to play with his audience's anticipation, curiosity and not to mention, their heartstrings… 
Meaningful Characters
The audience is carried through a Studio Ghibli-like fashion with runaway Hodaka (voiced by Kotaro Daigo) meets Hina (voiced by Nana Mori) in unordinary circumstances. Due to the constant rain, it's hard to make ends meet beyond urban dwelling. The characters come off as quirky and sometimes annoying as children may, but they grow on you. Through character development and meaningful emotion, Daigo, Mori, and the other supporting cast bring the characters to life. Feeling alone in the world, the children cling to one another and find joy in one another's company. 
Stunning Visuals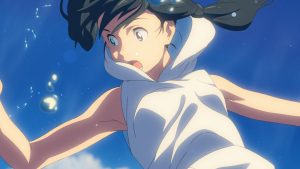 The movie's visuals are beyond impressive with stunning environmental surroundings. At times, it was hard to tell if some scenes were animated or whether real scenery was filmed. Charming character anime styles blend well into realistic settings. Action scenes need their own nod. The film's animators' use of quickly-paced scenes can be overwhelming at times. It may feel as if the viewer really needs to pay attention in order to take in everything without missing anything. At times, you feel as if you're truly falling and other times, make you feel the impact from a hit. The balance between action and calming times brings a breath of fresh crisp air. 
Creative Tunes
Japanese rock band, Radwimps, enhances the beautiful environmental settings in "Weathering with You" to a full masterpiece as they did with "Your Name." Their simple melodies and creative build in tempo express genuine emotion. The soundtrack for "Weathering with You" was Radwimps' eleventh studio album released on July 19, 2019, with the release of the movie's Japanese version. 
Verdict 5/5 
Just as in Shinkai's previous wistful title, "Your Name," the children in "Weathering with You" cross paths as destiny intended while growing as they struggle to survive in an urban environment. From the amount of artistic precision accumulated in this film to the tasteful story and characters, there cannot be enough said at how much this film has touched its audience.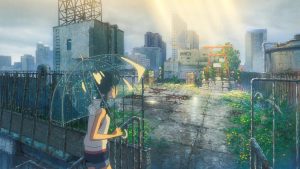 "Weathering with You" was released in the U.S. on January 17, 2020, making $186 million worldwide in the box office. 
Directed by Makoto Shinkai
Released in N.A. by GKIDS
Rated: PG-13
Length: 1hr 54mins