Review – Fling To The Finish
Fling to the Finish, developed by SplitSide Games, is a co-op racing game, currently in Early Access, where two characters are fastened together by a rope and must make their way through different obstacles courses. You can play it alone using your keyboard and mouse or grab a friend to play with you. Choose your characters among twelve round avatars that include a worm in an apple and a penguin with a bowtie. Be careful of bombs that launch you away and lasers that threaten to sever your line with your buddy. Play through the campaign or go online to face people in this wacky, entertaining game.
Pros
When I first started the Early Access version of Fling to the Finish, the art style really caught my eye. Both the characters and environment are adorable and lively. It pulls you into the party playstyle. My first two partners were the aforementioned worm in an apple and an acorn, but I unlocked more as I continued through like a bee and a snail.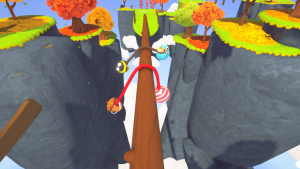 The game was surprisingly challenging. Controlling one partner with my keyboard and the other with my mouse, I struggled to keep them together. It was a fun difficulty that I soon got used to. I found how important teamwork was as I used both characters to climb up walls, slide on a narrow log across gaps, and save myself from falling off the edge. Each of the 12 maps were unique and came with various obstacles to maneuver around. There are more coming soon in the future.
Multiplayer is really enjoyable. It balances the need to be first with the wild environment that seeks to hold you back. You may get stuck around an obstacle, creating pressure. It's fun when both you and your opponents are struggling in the same area. There are also random power-ups in the form of presents for the people in last place like a weight to hold people back or balloons to fly over your competition. It has the Mario Kart vibe where it's very fun but frustrating.
Improvements Needed
The most crucial improvement needed is matchmaking. I can forgive Fling to the Finish for being somewhat barren as this game is in Early Access, but it doesn't make the issue any less frustrating for people trying to queue at certain times. Luckily, the developers have been very accommodating with their growing community. They have a Discord channel to meet up with other Early Access players and encourage Steam Remote Play that helps people play with friends that don't own the game.
However, this might not be enough. I tried playing with a friend online and I kept getting disconnected in the middle of play despite having Google Fiber. It wasn't clear whether my disconnect was coming from my friend or the servers in general as there was no way to track in-game ping. The game did freeze on me after finding two players when I queued up alone, so it's something to look at. 
Verdict
Overall, I think that this is a fun multiplayer game for friends and family. Though there is enjoyment with playing alone, couch co-op is the best way to play for now.
You can play Fling to the Finish in Early Access right now on Steam!