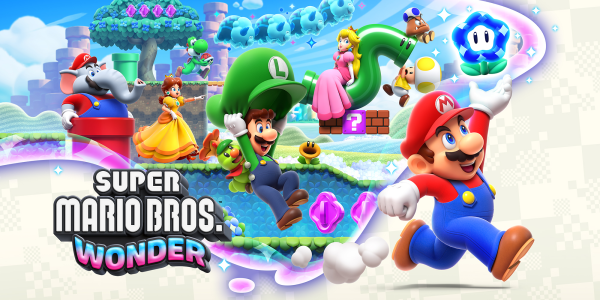 From the moment the reveal trailer for Super Mario Bros. Wonder graced our screens, it was evident that this new platformer was something special. After investing nearly 20 hours to complete every aspect of the game, I can confirm that it not only brings a fresh perspective but also hearkens back to the Mario of old. Throughout my entire journey, I couldn't wipe the joyful, childlike grin from my face. Each level introduced a new layer of creativity, be it in gameplay, animations, level design, or the enchanting music. With an array of innovative power-ups, mechanics, and an entirely new world to explore, this 2D Mario platformer feels like the revival Mario fans have been waiting for since the days of New Super Mario Bros. U on the Wii U.
Oozing with Creativity
Even the storyline takes a different path, transporting players to the neighboring Flower Kingdom, managed by caterpillars and Poplins, and inhabited by Wonder Flowers that wield transformative powers. In a refreshing twist from the usual Peach-capturing scenario, Bowser seizes one of these Wonder Flowers to transform into a flying castle and threaten the kingdom's peace. This small narrative shift showcases the developers' dedication to infusing novelty into the Mario universe, particularly evident in the level design, with the Wonder Flowers as a central element.
Just as Bowser utilizes a Wonder Flower for transformation, each level is graced with its own Wonder Flower that dramatically alters the stage. Nearly every level introduces a different mechanic, and even the ones that revisit ideas do so in a way that adds a unique and enjoyable twist. These Wonder Flowers may change the level's perspective, challenge you with an in-game quiz, or even have Bowser's castle firing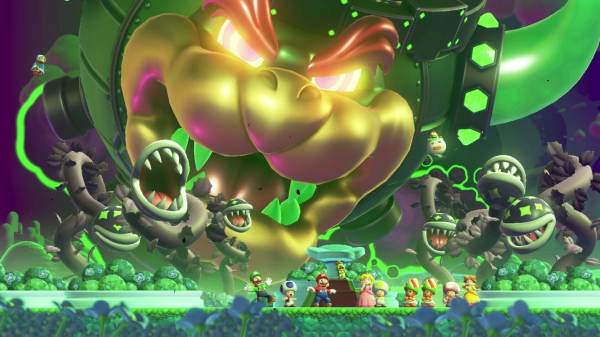 bombs at you. They infuse a level of creativity reminiscent of the old SNES platformers, like Super Mario World and Super Mario World 2: Yoshi's Island, while adding a modern twist that works wonders for the game.
Apart from the standard levels, there are special challenges that require you to speedrun enemy encounters, solve puzzle rooms by uncovering hidden objects, and tackle badge challenges. These badges significantly impact Mario's mobility, from crouching jumps to spin jumps and even a badge that propels you at breakneck speeds. Remarkably, even water levels become engaging with the right badge. Yet, some of the puzzle levels might feel less engaging, as they appear to trick the player by introducing new mechanics only found in those levels. Nevertheless, the online multiplayer feature proves invaluable in overcoming these challenges.
"Remarkably, even water levels become engaging!"
In a manner reminiscent of games like Death Stranding and the Soulsborne series, Super Mario Bros. Wonder employs seamless online multiplayer, allowing you to interact with other players' ghosts or "stands," which provide substantial assistance. This support can range from literal help in reviving you after a mishap to players aiding in collecting elusive purple coins or navigating perplexing puzzle levels. Moreover, you can team up with friends and venture through these levels together using the ghost system, even engaging in friendly races. Initially, this seemed less entertaining than traditional in-person gameplay, but the seamless approach enhances cooperation and enables players to tackle the game at their own pace.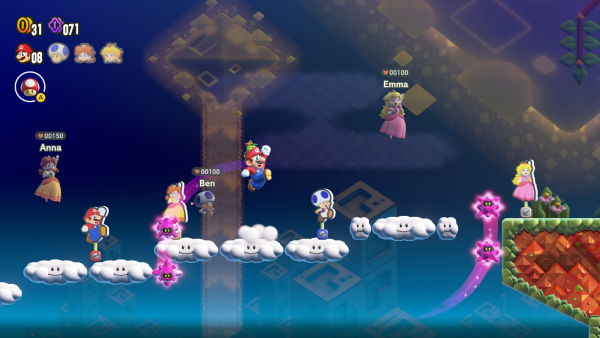 While some of the puzzle levels may feel more like tricks than challenging puzzles, Super Mario Bros. Wonder seems to dial down the difficulty compared to recent titles like Super Mario 3D World's Champion's Road. However, this choice allows players to fully savor the immense variety present in each level and scene.
Super Mario Bros. Wonder reaffirms Mario's status as an iconic figure in the gaming world, delivering a consistent dose of wholesome, quality entertainment that's hard to find elsewhere. With its modernized online system, abundant variety in playstyles, levels, and worlds, it not only stands as one of the finest Mario games but also emerges as a strong Game of the Year contender in a year filled with other gaming masterpieces
Game Score: 9/10
Make sure to find Super Mario Bros. Wonder on the Nintendo Eshop, and check out Caitlyn's review of The Troop, or Ronny's review of Marvel's Spiderman 2 right here on Geekwave, or on our YouTube Channel!