Rainbow Six Siege: Recommended Operators for an Adept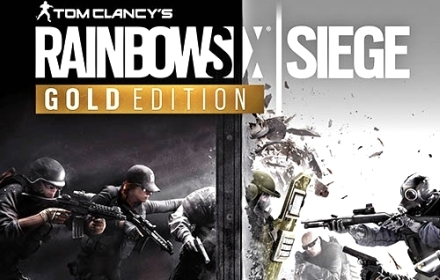 Preface:
Digging deeper into the depths of Rainbow Six Siege, the need for more tactical operators becomes definite. Now at an adept level, players no longer need a large focus on simplicity. Instead, players are focusing on being more combat effective, and objective oriented. These operators emphasize both combat and objective strategies, while also not overwhelming the player with complicated mechanics.
Attackers:
Thermite:
Thermite is one of the most tactical and desirable operators in the game. His Exothermic (thermite) charges are one of two gadgets in the game that can breach through reinforced walls. This can change the gameplay entirely. Compared to other breach charges, the thermite charges require time to go off. In addition, they release a bright light on the opposite side of the wall, giving warning to all the enemies inside.
Simplicity:
Thermite is a very simplistic operator, with a very complex play style. In mechanics, he doesn't stand out more than any other operator with a breach charge. However, his ability to disable the strongest fortification in the game vastly affects the gameplay. Knowing where, when, and how to utilize the breach charges correctly will greatly affect the sway of the game.
Playability:
Like Ash, Thermite is playable in all game modes due to his simplicity. In modes like Bomb or Hostage, his thermite charges make new doorways to get to the objective. In Secure Area, the charges can provide a more aggressive approach. Instead of placing the charges in areas that would provide an objective perspective, placing charges that open the room up might be more effective. By opening up the room, the match quickly becomes a TDM, where the attackers have the advantage. One of the major components of Thermite is very synergy based. Although he can play solo pretty well, he is more powerful with a fluid team. Despite Thermite's lack of stealth, he still provides a window of opportunity in every game mode.
XP:
Because the only additional XP that can be gained from Thermite is dependent on his charges exploding, he isn't great at gaining XP. However, since he is very objective oriented, XP is easily gained by winning a round or claiming an objective.
Weakness & Consensus:
Thermite's breach charge is like any other breach charge, meaning that gadget counters can prevent it from going off. Operators like Mute and Bandit can disable these charges. Also, Thermite takes a bit longer to apply the charges. However, Thermite is still able to work around these counters with almost any squad having his back. Overall, Thermite is a game changing operator, who works best with a squad.
Thatcher:
Being both simplistic and complicated, Thatcher is a tough operator to learn. Thatcher carries 3 EMP grenades that can destroy and disable electronics within its radius. Most gadgets will be destroyed by the blast, excluding Maestro's Evil Eyes and Echo's Yokai drone. Other operator equipment will be disabled temporarily. This includes things like Pulse's Heartbeat sensor, any weapon sights that aren't iron sights, and other nuances. Thatcher's mechanics are very simplistic, but the gameplay is very complex.
Simplicity:
Thatcher is a very simple operator who's complications stem from the nuances in gameplay. While mechanically he is simplistic, the way that he can affect gameplay is drastic. Also, since he can disable and destroy so much, he becomes a necessity to other operators (like Thermite).
Playability:
Every game mode is a playground for Thatcher. In modes like Secure Area and Bomb, Thatcher's EMP grenades devastate enemy equipment. In Hostage, opponents' equipment is more difficult to destroy due to the lack of explosives (generally). However, because Thatcher's grenades don't deal damage upon exploding, they can destroy all the equipment in the hostage room without the worry of hurting the hostage. The radius on his grenades are able to destroy equipment before they have the chance to counter attackers equipment. Thatcher can easily run solo, or with a squad. While some operators will rely heavily on Thatcher, Thatcher doesn't generally need to rely on them. However, since there are a lot of nuances that come from playing with Thatcher, picking when and where to use the EMP grenades is difficult. Learning how to play him well is even more difficult, but after gaining some experience, he becomes a powerful asset in all game modes.
XP:
Thatcher is an awesome operator to gain XP. As long as the enemy team has an electronic device, there is bonus XP waiting. Even without the enemy team's equipment, Thatcher can use his grenades on cameras to gain that XP. Since Thatcher's objective input and his XP input are one in the same, gaining XP is no more difficult than deciding where to use the EMP grenades.
Weakness & Consensus:
Since Thatcher does throw his grenades, they can fall victim to Jager's ADS. Also, they have no effect on Frost's welcome matts. However, these are his only weaknesses. While he poses almost no weaknesses, Thatcher's real weakness is his learning curve. Excluding that, he is a game changing operator who provides synergy to a lot of operators.
Glaz:
Glaz is like Blitz, because of his strict combat orientation. Unlike Blitz, Glaz is more powerful with range and stealth. Glaz has a very powerful OTs-03 sniper rifle, capable of penetrating 2 surfaces at once, and shooting through the bullet proof windows on the Presidential Plane. Also, Glaz is the only operator that can shoot through Castle's Armor Panels. What makes Glaz so powerful, is not only his gun, but the thermal flip scope that comes with it. This allows for Glaz to clearly see operators from any distance, even through smoke.
Simplicity:
Being one of the more simplistic operators, Glaz offers very clean and easy gameplay. The only complication that occurs is trying to engage opponents in close quarters. This is because other operators have weapons that are more close combat effective.
Playability:
Glaz is a semi-playable operator. Although he can be effective in all game modes, the key factor is the map. If the map is underground, focuses on close combat, or does not provide advantage points, Glaz becomes very difficult to use. Situations like these force Glaz to engage in close quarters combat, giving the opponents the advantage. Glaz is still playable in close quarters, but the opponent will most likely have a large advantage. His smoke grenades and thermal scope can be very effective in close quarters, but the combat is awkward.
XP:
Like Blitz, Glaz will only gain XP from getting kills, or playing objectively. Since he is more optimal at long range, it is unlikely that playing objectively will be as rewarding with XP. This means that Glaz has to focus on his kill count. Despite being built to stack a high kill count, he is not an ideal operator for obtaining XP.
Weakness & Consensus:
Glaz's only real weakness is close combat. Besides this, he is able to counter a lot of operators, and provide excellent suppressive fire. He may be difficult to use at times, but for someone with good aim and a hunter's sense, he makes a good addition to the team.
Doc:
Being one of the few operators that can heal other operators, Doc is a game changer. He carries a Stim pistol, which can heal other teammates, and himself. This Stim pistol is very powerful, since it can revive people from a distance, and revive them quickly (in comparison to reviving teammates manually). Also, it revives them to be at 75% health, rather than 50%. This pistol can also overheal operators. This means that their health goes above the standard 100%. When an operator is overhealed, they obtain health decay of 1 hp per second. This decay occurs until the operator reaches their normal health total. Having 3 shots, doc can heal any bad situation.
Simplicity:
Doc is not a simplistic operator. His difficulty stems from his limited use. Often, when a player is downed, they are killed right after, so getting the revive is difficult. Also, if a player is downed, there is no guarantee that they will be close, unless if the team is playing very conservative. Doc is mostly used for his overhealing ability, but using it at the wrong time can be a huge waste. Since the decay is pretty rapid, using this overheal properly is fairly difficult and requires particular instances to use them. Another reason for the complication is that there is only three shots. Missing a shot can be vital, and when teammates don't understand that they can be healed, making that shot count can be even trickier.
Playability:
Despite Doc being somewhat difficult to utilize, he can be utilized well in every game mode. This is because his play style is not objective oriented, but rather team oriented. Even when a team is small, Doc's ability to self heal can make him a tough solo operator. Doc's overhealing ability is so powerful, that it goes without say that he is the best operator for 1vs1s. There are a lot of strategies that can be deployed when running Doc, each showcasing how vastly playable he is.
XP:
Because Doc does not guarantee a revive or use of the Stim pistol, he is not an excellent operator to gain XP. Although a revive does grant 50 XP, there is still no guarantee of getting one. However, if used correctly, the Stim pistol can be used a total of 3 times per round. With each Stim pistol use giving 20 XP, there can be a total of 60 XP guarantee.  Despite Doc's ability to gain a lot of XP through easy revives, the odds are too great for him to be a good operator for gaining XP.
Weakness & Consensus:
Doc doesn't have any real downsides besides his complexity. Other than that, there is nothing that weakens him. He is great solo, or in teams, and has a breath of play styles. He is probably the best operator for 1vs1 due to his overhealing, so overall, he is a fantastic operator.
Bandit:
Offering both powerful weapons and powerful gadgets, Bandit is one of the more playable operators. Bandit carries around 4 CEDs (crude electrical device), which can be attached to any metallic gadget (barbed wire, reinforced walls, and deployable shields). When equipped, the CED will send electric charges through the gadget, hurting any enemy operators to touch it, and destroying any electronic gadget (friend or foe) that come into contact with it. Bandit also carries his MP7, which has a very high fire rate, low recoil, and is very accurate.
Simplicity:
Bandit is a somewhat simple operator. Because his gadgets have complexities involving placement and synergy, he is not the easiest to use. Since his gadget can destroy friendly gadgets, placing them wisely will provide a more efficient use. Also, some well known strategies with bandit are a little complicated.
Playability:
Bandit is incredibly playable. In Hostage, his shock charges make entrance to the hostage difficult, especially since explosive gadgets are limiting. In Secure area, his 4 shock charges can usually cover all of the reinforced walls, with one to spare. Bomb is a little more difficult, because he can not secure both rooms easily, but with another operator like Mute, Bandit can secure both rooms easily. In addition to equipping the CEDs to reinforced walls, their use of destroying drones is almost as effective as Mute. Placing CEDs to barbed wire and to deployable shields is also a effective way to play Bandit. There are also a lot of strategies that only Bandit can deploy, like Bandit Tricking. Despite Bandit's ability to destroy friendly equipment, he can also provide a huge amount of synergy to the team.
XP:
Gaining XP with Bandit is not difficult. For every CED placed, the player will gain 10 XP. While this only adds to 40 XP, other strategies can give Bandit a lot of XP through destroying equipment, and hurting operators. It is very likely that the CEDs will do one or the other each round. So, by himself, Bandit is not great for XP, but the likeliness that his CEDs granting additional XP is very high.
Weakness & Consensus:
Like any other gadget based operator, Bandit is susceptible to having his equipment destroyed by operators like Thatcher, IQ, or Twitch. However, Bandit can counter both some of these operators through more strategies. Other than these counters, Bandit doesn't have any other counters. Therefore, he is one of the most powerful and playable operators in the game.