'Geki Yaba Runner' Game Review
Warning: This review may contain spoilers for "Geki Yaba Runner." 
The Anniversary Edition of this running game for the Nintendo Switch was released in late March this year, though it wasn't until last month that I found it under deals on the Nintendo eStore. "Geki Yaba Runner" was an unexpectedly fun play. It's been a game that I play more often than I thought, especially when I just want a casual play here or there. The gameplay often involves new and unique levels as I learn how to make my way through. And sometimes, the game's timer runs out when I reach a level that I cannot get through; after dying constantly or finally getting to a point where there might be a check point, only to have to start over.
As frustrating as "Geki Yaba Runner" can be, QubicGames does a good job of ensuring a player wants to come back after a break because the player either forgets they rage quit and wants more quick fun or they just want to finally beat the level they were stuck on.
Aesthetics
Quirky looking gnome characters bring "South Park's" underpants thieves to reality through the gameplay (discussed below). Because the levels are fast paced, it can hard to appreciate the art beyond it's cute and silly style. This includes silhouetted backdrops and armored statues.
The plot of the game is a classic tale of 'hero saves the princess by infiltrating a castle,' though it's more like the simple original Mario games since the hero(es) aren't in typical knightly fashion.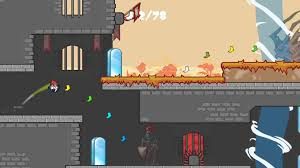 Gameplay
You won't be collecting underpants in "Geki Yaba Runner." Instead, you'll be using them as a glider to make your way through the levels. Socks are the choice of collection for these mustached personas. After collecting as much as you can, the socks are thrown into a happy, slightly dancing chest.
Unlike the Mario side-scrollers, the game acts more like "Super Meat Boy." In this platformer, you cannot stop or you're going to die a lot. Each level steps up the challenge with over 130 various designs. Some of these levels see you jumping into one portal to be thrown through another above you then you have to fall down into an area to choose from two more portals, and so on. The simple port does not lack detail in graphics or syncing of the Switch's controls. The biggest complaint I had would be how the Joy-con controls feel lagged when trying to end a glide and jump over / onto a platform which leads to falling or running into something and having to start over. Though, it could just be operator error.
Verdict 8/10
"Geki Yaba Runner" makes up for its lack in content by giving you a fun, though somewhat irritating, way to pass your time that's worth the few dollars you will spend on it. The game is a nice change of pace compared to other games, when you're needing a distraction, or just to wind down. Things that could be added for better gameplay would include a two-player local or an online option and possibly increased challenge modes, like a God mode.
Similar Games: "Super Meat Boy," "Super Mario Bros.,"Super Mario Bros. 2," "Celeste," "Super Mario World," "Super Mario Maker," "Super Mario Maker 2," and "Cuphead."
Content Advisory: Rated E for everyone, but may be harder for younger audiences.
Genre: 2D, Runner, Platformer, Action
Game Length: Depends on your skill level, though it may last several hours.
Platforms: Nintendo Switch, Deluxe Edition for the Nintendo 3DS, and Standard Edition for PlayStation Vita