How a Calling to Stream Lead to a Career – Interview With a Full-time Twitch Streamer
[vc_row][vc_column][vc_column_text]Have you ever wanted to live stream or know what it's like to be on Twitch or a YouTuber? What does it take to be a streamer? Charlee is a delightful and aspiring young woman local to Utah who has had a similar itch to try out such a popular way of creating content. By scratching that itch, it lead to something she couldn't have imagined.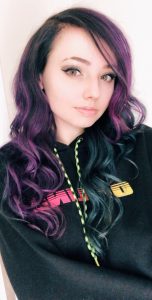 When Twitch was new, Charlee, otherwise known Charleemanderz on her content creator and social media platforms, had seen an opportunity. Though, like many would agree, being watched on camera is nerve wracking. She had her reservations to stream because she didn't want to be "a meme on Reddit." It wasn't until a few years later that she'd come back to this idea after dabbling in it a bit. Working part-time provided the incentive of attempting to stream more seriously. 
Charlee had inadvertently began to overcome her stage fright by video streaming to friends through Skype and Discord (before sound sharing was available). While her friends were able to see games they hadn't previously, it was as if she was training for the real thing. Eventually, she came to the conclusion, "I am already playing games, I might as well turn on the camera." 
Carrying over her skills she acquired, though, wasn't a linear path to success. There was much trial and error in order to figure out the streaming world, as well as obstacles in the real world to overcome. From being jobless and struggling with living situations, Charlee had continued to push through. She contributes a big part to the support of close friends and those in her community to see her through. A friend who gave her have a couch to crash on while encouraging her to just keep streaming and see where it goes. Eventually, I just "fell into it…I guess [my friend] believed in my content. [Otherwise,] I don't know where I'd be," reflected Charlee. 
Landing Twitch Affiliate 
Her breakthrough came when she was recommended "Doki Doki Literature Club" before its outcome was well known. Many viewers were looking for streamers' reactions to the game's insane twist. Charlee was hooked as she finished the game in a nine-hour continuous stream that broke her goal of 100 followers. "I had an average of 50 people watching me. If I was [actually] in front of a crowd of 50 people [who] just watched me play this game, it felt like something I was able to do." As viewer counts increased, it seemed to "desensitize" Charlee to any stage fright since she was having so much fun. After this stream, she was able to apply for the Twitch Affiliate Program which entitles streamers to half of their subscriber income. 
Charlee insisted that it would be better if those who want to stream for other than a hobby to obtain other sources of income such as a part-time job. Growing a community from scratch who will support you is difficult, not just financially. Income fluctuates depending on generosity and viewership and it's not guaranteed. She also does commissioned work making prints, Twitch bits and emotes for another source of income. Marrying with brand deals is still a road she's looking more into. 
Balancing YouTube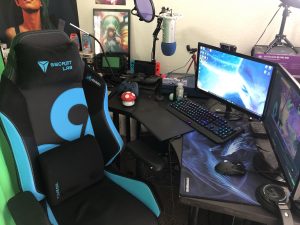 YouTube is an avenue for content creators to branch off into or use for another source. Charlee is working on her YouTube channel — in which she just hit 500 subscribers — to use more "as another place to have my content." She figures that it's better to focus on streaming while producing concise content on the other platform rather than posting the same on both. To her, if people could just choose between the two, what's the point of watching the Twitch stream if they could just see it on YouTube or vise versa?  
Partnership with League
Her greatest accomplishment came when she became a partner with Riot Games "League of Legends." Doors opened up leading to surreal encounters with other content creators including those who were her inspirations in the Twitch, League, and Pokémon communities. Charlee adds that she is, "beyond grateful. Meeting creators is mind blowing. And [opportunities] to grow a community who give a f**k that I'm [here]."  
Advise For Beginners
Charlee believes that anyone could begin streaming. "You don't need the absolute best equipment, even some of the largest streamers today [still use] the same headphones/mic attached." Her main advice is to maintain a consistent schedule. "Like a TV show, people can start expecting you at that time if they're in that directory. It's hard for the little people. [But] they will find you. Games people don't really like to play any more, but love to watch such as 'Skyrim' or 'Fallout.' They'll ask you when you stream next. [And] they'll come back [if] your show fits their schedule. It's how you build a community." 
For those feeling awkward on camera, she suggests thinking aloud and keep talking. "…while playing 'Overwatch,' I was shot calling myself. 'Have fun but try to be entertaining' was too simple, but too complex. It started off as feeling repetitive…But it was keeping people around because I was talking. Then, eventually, I started talking about my day. What I was doing, movies, favorite coffees, drinks, shows. [Sometimes] my train of thought may go off the rails. [It was] a lot of practicing talking aloud, hearing myself talk to no one."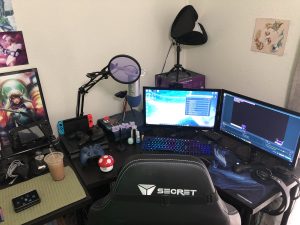 She insists that in order to avoid uncomfortable situations with viewers, it's pertinent to define the streamer / viewer relationship. "Streaming is a new age thing. There's a lot of people that feel like your hanging out with your friend." People who want more interaction "will go to smaller streamers." Charlee has had experiences where someone has made her uncomfortable and others who have become upset when she doesn't reply in DMs. Situations like these are not solely a female streamer issue, though there is a higher male viewer to female streamer ratio. "You can build a relationship with viewers, [but] not every single person who comes into your stream. They form a connection. 'I love having you here and you're awesome. But I don't know you.' I care about a lot of people in my community. It can be confusing. [And] I'd be stretched so thin," if I was to be close friends with each one and every one. 
Where You Can Find Charleemanderz
This month on Twitch is SUBtember where they have partnered with Subway to give subscribers 50% off in they'd like to support their favorites streamers. Charlee might just become that. You can find her on Twitch.tv/Charleemanderz from Tuesday to Sunday at 5PM MST. Stream times will become earlier for those in school. It's important to have a day off so Mondays are for playing in her usual D&D group. Look forward to November for a triple celebration. Charlee will be putting on a large stream leading up the release of "Pokemon Sword" and "Shield" editions which will be on her birthday on the 15th and the 25th is her two-year Twitch anniversary. 
[email protected] @gamarayzchannel[/vc_column_text][/vc_column][/vc_row]