An Adventure with the Adventurers League, and Pathfinder Society – Dave Knigton
[vc_row][vc_column][vc_column_text]
[/vc_column_text][vc_column_text]
With Dungeons and Dragons' (D&D) recent rise in popularity thanks to the incredible talent of Matthew Mercer and support from Geek and Sundry, geek culture has exploded. Here at The Geekwave we are dedicated to supporting anything geeky and encouraging everyone to follow what they're passionate about and produce content about it. I happen to be quite passionate about Role Playing games like D&D, and with the surge of popularity in the D&D culture I wanted to talk to the Dungeon Masters (DMs) working professionally in the RPG world, and hopefully learn some things. Specifically how individually they got into the difficult task of DMing, how they encourage new players to join or old players to come back, and because they DM in a public setting how they deal with controversy at the table.
During this year's 'Salt Lake City Gaming Con' convention or Gaming Con I had the immeasurable pleasure and luck to sit down with several Dungeon Masters that work for the Adventurers League, and the Pathfinder Society. Hearing about their passion for the game from all the DMs was inspiring and immediately made me wish I had the time during the convention to sit down and play. A couple of the DMs I spoke to, Dave Knighton and Derek Grey, that run the Adventurers League and even produce adventure modules for the conventions to run. This is the third piece in the series.
Dave Knighton
The next arc of my Epic Quest for knowledge brought Dave Knighton to me, and truly epic this next arc would be. If Dave's name doesn't give that away, then his incredible achievements will. The owner of the illustrious Under the Wing Gaming which as Dave says is one of the three mighty pillars that bless most of the conventions in our state with existence. The other two being Rocky Mountain RPG and Mount Ogden Gaming Company. Together these mighty organizations have created 10 amazing conventions including the upcoming MyCon and SaltCon. It was a long and arduous journey to make it to this point though, and so Dave begins his story . . . 
"I was doing the reading. . . I love the lore, I love the world of D&D, but I didn't actually get to really play until 5th edition."
Dave has always been a passionate believer of Dungeons and Dragons, but growing up in Logan, as small town in Northern Utah, he was subject to the dreaded Satanic Panic! D&D was the taboo topic of the time, and though you might know about its existence, there was no one to talk to about it. "I actually didn't get my first actual, real introduction to D&D until I was in my early 20's." Beginning with version 3.5, Dave's first Dungeon Master, enticed the party with stories of grandeur, inspiring the creation of new adventurers. Alas that first party of adventurers would never set off on a glorious quest. And that was the end for Dave's early adventuring days. He kept up with the laws of the world, and the ever developing lore. "I was doing the reading. . . I love the lore, I love the world of D&D, but I didn't actually get to really play until 5th edition." Dave and his wife are the epitome of nerdom, having their dates at the local game shop. Often dropping gold in search for all powerful spells and creatures in the world of Magic the Gathering. So, one lovely night out and about in the corridors of nerd heaven, Dave stumbled upon a new gateway to that of Dungeons and Dragons! The 80 gold piece starter set (using a sloppy conversion rate that is about 20 dollars) 
This is where Dave's true path to glory began. He started DMing for just his wife, and while one on one adventuring is fun, they quickly realized they needed a larger part to take on some truly dangerous enemies. So Dave turned it into a family adventure bringing in his oldest son, his sister, and her partner. Dave's wife plays a large role in the Adventurers League as well, helping with artwork and the layout of the adventure modules that Dave creates. One of these recently debuted, and though it's not available on the Dungeon Masters Guild (DMsGuild) yet, his other work is. D&D has adventurer parties all over the world, meaning anyone can run his adventures. "I've had reviews on stuff from Australia. Which I think is pretty cool." 
Dave's involvement with the creation of adventures modules to be played wherever adventurers gather sparked my curiosity. Despite my personal experience building quests, I have never build one for someone else to run. Dave indulged my curiosity. The D&D Adventurers League has a program called the Convention Created Content (CCC) that produces official content written specifically for conventions. "The process is nine months long. You have to have your idea too them, in writing; this is the outline, this is what I plan on doing, this is the levels, these are the magic items . . ." This means nine months is actually only the documented process. It's between the nine month and three month window that the writing of the adventure actually takes place. "During that time period we go through; we write it, we proof it, we edit it, we edit it again, we edit it another time. Play testing . . . making sure all the mechanics are proper, making sure nothing broken, making sure everything works properly." Finally, three months before the launching convention, it's sent to the CCC and they give it their final approval, and the module debuts at the convention. After the debut the Adventurers League Admins will approve the module to go up for sale on (DMsGuild). Because of these many checks the success is a high DC, and I don't think anyone's persuasion is high enough to allow vorpal weapon to be given to the players in their first level campaign. 
"Editing is always the worst."
5th edition D&D is set on a particular world called Faerûn, I asked Dave if they were restricted to using a particular part of the world to design their adventures. "The CCC program centers in the Moon Sea region." I failed my knowledge Geography check and thought that this apart of the Sword Coast, luckily Dave forgave my err and explained that the Moon Sea is further inland. "You have the city Phlan, and areas like the Deadlands of Thar. . . So they've chunked out this area and said you play in here. This is your playground." Upon further research I discovered it's true position is far inland beyond the great Anauroch Desert. Given that they have a designated area to mess around in, I imagined that would serve to allow easier continuity in the modules that Dave helps create. He backed this up, "When we write together, we write all in the same area, all in the same hamlet. We bring in a lot of the NPCs that have been around for three years now. So we've got a little repertoire of NPCs that people have run into." 
Dave also works on a monthly project set in the world of Eberron called the Khyber Khronicle, to which Dave says "Editing is always the worst." These projects take the nine months of production they get through the CCC and shove it into a month. "We're shoving all that editing work into a week. The nice thing about the Khyber Khronicle is, it's not necessarily one big adventure, it's a collection of smaller pieces." This allows a significant increase in contributors, meaning people from all over the world can create content. Hopefully the submissions they get have been edited a little at this point. It definitely keeps Dave busy, especially considering that he helps to organize and run several of the conventions around Utah. 
"When we're sitting at the table, whether it's one hour, four hours, whatever. We're friends."
Having one of the organizers for the Adventurers League in my presence, I sought further knowledge on how they encourage adventurers to partake in the Adventurers League quests. The answer? Primarily social media. "I push a lot of stuff out stuff under my Under The Wing Gaming page, through Facebook, Twitter, we're tying Instagram. There's a lot of Facebook groups in the state that are D&D oriented." All of the local game stores also happen to have an online presence and some have bulletin boards in store, so reaching out to these locations helps spread the word. Dave's website, Under the Wing Gaming, has all of the conventions the Adventurers League will be at, what times they will be playing, and the links to tickets and registration. Knowing how ears are reached is only half the battle though. Because the Adventurers League is so inviting to new players, I wanted to know how they work to encourage diversity in AL. "We push the fact that we are very inclusive, we open our arms to anyone. Anyone who sits at the table is welcome.We have a strict code of conduct that we make sure all of our volunteers are aware of, and we hold them accountable to it." Having been lucky enough to talk to several of the DMs that volunteer with the Adventure League it's clear that they are all very inviting and encourage the idea that playing D&D should be a safe environment. No matter where you are. Dave's words echoed my thoughts precisely "You can come here and you can play this game and you can have fun with strangers. . . When we're sitting at the table, whether it's one hour, four hours, whatever. We're friends." 
"Our DM's know that the Admins have their back. Rule Zero is going to be enforced."
Having been in the presence of these amazing DMs and leaders in the D&D community it was clear that they are very supportive of each other. Dave's powerful incantation of inclusivity must occasionally meet opposition though, so I asked how controversial topics were dealt with from his position of leadership. Rule Zero with the AL is "The DM has the final say." Arguments about the laws of adventure can be discussed once the quest is completed. Having to escort an adventurer away from the party doesn't happen often, but Dave makes it clear, "Our DM's know that the Admins have their back. Rule Zero is going to be enforced." Amazingly Dave still manages to have the time to run his own adventures at home as well. Because he is familiar with running adventures with strangers as well as with friends, I asked how he handles enforcing the laws of the DM in both situations. Dave's advice holds true for all DMs, experienced battleworn DMs as well as the amateurs that are just getting into the leading role. "When these things do come up, pull it off the table. Talk about it after the game. As a DM you have the right to rule in their favor or pull a 'Rule Zero' on them." It's not worth stopping the adventure to look through the law book and as Dave puts it "We are collaboratively story telling, if the rule makes sense leave it. . . It's not [the DMs] game, it's not the players game. It's a collaborative game, it's everyone's game." 
As difficult as it was to end my time with Dave, I knew there were more DMs to learn from. It was time for the final question. The truth about one's character. What is your character? Dave is the classic Dwarven Cleric. Though he doesn't align strictly to the idea of a cemented alignment, being lawful good, doesn't mean you can't be a little chaotic.[/vc_column_text][/vc_column][/vc_row]
About the Writer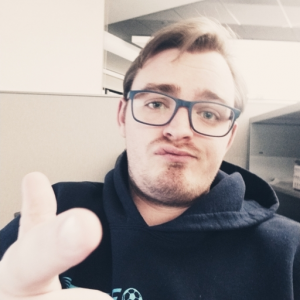 Talon Dillman, Director
Talon is a senior at the University of Utah getting a B.S. Degree in English. He is the current director of The Geekwave, and when he's not busy with running the platform, he's probably playing a TTRPG or working on one of his campaigns.