Review – Glitchpunk
Ever since I read the name and saw the promotional art, I was excited to play Glitchpunk. Glitchpunk is an early access top-down action shooter game made by developers Dark Lord and published by Daedalic Entertainment. With around two hours of gameplay, I was very impressed by the world. You take control of an android who is able to bypass their intended programming and become a bounty hunter and explore the city by doing jobs for clients. Currently, there is only one main city area to access right now, but the developers plan for more areas to be added with the final release. There were several strong points of the game, and a few that could use some fixing.
Pros: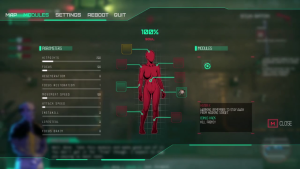 I love the art style and aesthetic! The lighting and mood felt just right for the game. The design of the character portraits inspired me to get to know the characters more. The game does include romance options (a favorite gameplay feature of mine), but I didn't get far enough in the game to pursue anyone.

It was easy to get lost in the world with all its groups of people. I frequently went around the areas of the game and entered the hack mode in order to see the profiles of the characters around me. Every NPC has different jobs, ages, salaries, and such.

The combat and shooting was easy to use and to get used to. It was simple, which works great for games that are more focused on the story content.
Cons: 
The tutorial went by really quick and was hard to remember. That led to my overall gameplay experience being hindered, as I eventually had to stop playing because I got stuck on a mission. More tips and tricks could've helped.

This led to me struggling to escape from the cops. The timer for them to stop looking for you was long. I tried hiding in a corner and waiting for the timer to expire, but it became too tedious and I felt I was wasting too much time.

The top-down driving system felt really hard to control, and I ended up hitting a lot of pedestrians (I don't play many games with driving).

There were multiple times where the dialogue would auto-advance, and I wasn't sure how to get that to stop. I usually take an extra second to absorb dialogue, especially when it contributes to world-building at the beginning of the game. I think I would have been able to get more of an understanding of the universe of Glitchpunk had I been able to take in the information properly.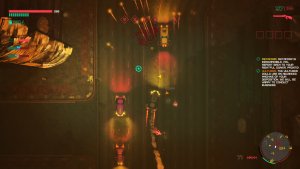 The Verdict
I know that Glitchpunk will not be the same once it is completed and out of Early Access. The story will definitely be more fleshed out and expansive, and hopefully, some of those mechanics will be improved too. Definitely keep an eye on this one and once it's fully released I'll be playing it again. Head over to Glitchpunk's Steam page and if you think it's up your alley get it now or follow it so you can stay up to date on the development!
Overall, I would give this game a 6.5/10. There's some work to be done still, but that's expected for an early access game.